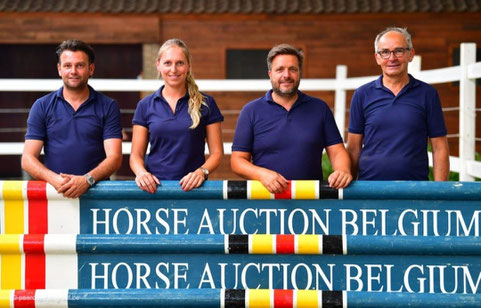 Horse Auctions Europe is the best website for staying up-to-date about where and when there are auctions, but also offers free advice. Twice a month we ask experts for their advice and know-how that can help you to get an edge. Horse Auction Belgium kicks off with 4 questions to Lore Penders.
Because of the Covid-19 crisis the number of horse auctions has grown explosively. Horse Auction Belgium organised a live auction at Sentower Park in Opglabbeek every year and can now also often be found online with remarkable collections of young showjumping horses.
1.     What can sellers do to get a good price for their horses?
"Optimum preparation for the selection/video day is crucial. It is wise to bring the horses in already two to three months beforehand, but how much time is actually needed differs per horse, of course. You start with light work on the lunge to build up condition and musculature. Then you can have them jump a few fences. Raise them gradually, so that the horse does not get overwhelmed and can still easily jump the fence. After that you could have them jump a line for a change.''
2.     What does the line of fences look like with Horse Auction Belgium?
''First a pole on the ground, followed at 2.5 meters by an in-out (3 meter distance), then one stride (7 meters) towards a vertical or oxer. Depending on the horse is waiting a bit too much or having a big stride, we make these distances shorter or wider. This order of fences helps to prevent the horse from breaking out to the left or the right. They absolutely need to have a good condition and know how to jump a line of fences. They should not be rushed, the horses need enough time to get the hang of it.''
3.     Does the auction organisation help with the free jumping?
"Sure! Owners call us asking if they can come to us for some practice before the video day. We like that, because then we can already see the horse at work and assess it. When a horse is still very green, it can be harder to predict its talent. When he or she has had some practice, you can get a better idea."
4.     Any other hints?
"For an online auction it is very important that the horses look their best. We appreciate it when the horses are clipped and plaited for the selection day. Of course, the X-rays have to be okay, so it is a good idea to have them taken beforehand, to avoid unnecessary disappointments. In short, make sure that your horse has good form at the right moment. That is simply good management. If you are unable to do this yourself, see if you can find a trainer who can make these preparations for you. Then you will have done everything to get the best possible result!"